Careers With Holder's Pest Solutions
At Holder's Pest Solutions, we are always looking for energetic and hardworking people to add to our growing family. We offer a number of amazing benefits to our employees, as well as a full paid training and certification program. Our employees enjoy helping people, taking on new challenges, problem solving, and can work independently or as part of a team.
Technicians build and manage their own routes, earning additional income by finding new clients and improving services for existing clients. They can also utilize our paid training programs to earn additional certifications that help increase their pay. Our administrative roles support the technicians and other employees in departments like Accounts Receivable, Client Relations and Inside Sales. Each member of our team works together to bring our customers, and each other the best support possible.
Holder's Pest Solutions was founded in Houston in 1947, and was only the seventh pest control company to be licensed by the state of Texas. Founded on family and family values, the Holder's name still represents the quality and service that we have been known for for over 70 years. With our office located just 20 minutes from Downtown Houston, we are in the perfect location to serve our clients. Holder's Pest Solutions is a wholly-owned subsidiary of Copesan Services, Inc. Copesan is an alliance of top-tier pest management companies that provides the highest quality of service to customers across North America.
We like to take care of our employees like family, check out what we give to each of our technicians!
Full paid training and state certification process
Tuition reimbursement to continue your education
Full benefits package: medical, dental, vision and life insurance
401k plan with company match.
Paid time off and paid holidays.
Career advancement opportunities
And more!
"This job has taught me how to deal with all different kinds of people, and that I need to do everything possible to make sure that my customers have a smile on their face when I leave."
– CW Grey, Technician
A quick snapshot of the different types of career roles within our company. From administrative to management, we are one big family and want nothing but success for each other. Take a look at what makes each role unique, and figure out which role is best for you!
Administrative personnel work in our offices – in departments such as; Client Relations, Administrative, Inside Sales or Accounts Receivable. In these roles, you will work as a part of a team, supporting other employees and current and potential clients. Working in these positions, you will see first-hand the family environment that we create with our staff. You will work closely with other members of your team as well as with upper level management to ensure our customers receive the best service possible.
Technicians don't work in your typical office setting. Instead, they spend time in their service territories, visiting clients at their homes or businesses. They are the 'face' of our company when it comes to representing ourselves to our clients. As a technician, you will complete service orders and build relationships with your clients. In this role, you will be given a company vehicle and a card to be used for gas and maintenance expenses. Technicians are generally in control of their own schedules, working with their clients and the administrative teams to find a time for service that is mutually beneficial.
If you have more experience in your field of expertise, management may be a better fit. At Holder's, we have a variety of management roles – from functional leadership such as sales and marketing, to service leadership as a sales and service manager or regional manager. The management positions in our organization play a key role in business leadership and continuous growth. Managers will work in their department to achieve both department and company goals, and will work together to set the path for the future of the organization.
Take a look at the career paths you can follow with Holder's Pest Solutions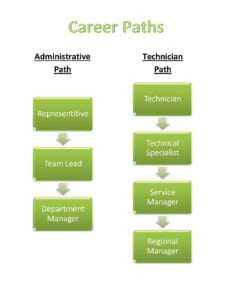 Holder's Pest Solutions is an Equal Opportunity Employer-Minorities/Females/Veterans/Disabled.